Why your views matter
The building of the West of Waterlooville Major Development Area (MDA) is now well underway with around 930 homes completed so far. Ultimately,the site will provide over 3,000 new homes, two primary schools along with leisure, retail, employment and community facilities.
The majority of the MDA lies within the Winchester City Council (WCC) district. This area is also served by two existing parish councils, Denmead and Southwick & Widley, which look after the interests of those communities. The two parish councils have already been meeting jointly as the West of Waterlooville Advisory Group to discuss local matters with residents of the MDA. However, different arrangements to serve the area may be more appropriate as the development grows. Accordingly, a petition requesting a Community Governance Review has been presented by councillors and residents. This consultation is in response to that petition.
 What powers do parish councils have?
Parish councils have a wide range of responsibilities. The key issues they might oversee for the new development area include; responding to planning applications, managing open spaces, promoting tourism, licensing, community halls, representation and management of town and village centres. Parish councils have rights to raise funding for services through a precept on the Council Tax, this precept is already being paid by Winchester City Council residents.They can make a key contribution to the well being of their local community.
Towards new council arrangements for West of Waterlooville
Winchester City Council is presenting four possible options for your consideration. In all options, services provided by Winchester City Council and Hampshire County Council will not change.
People who live in the 4000 homes within the two parish council areas are invited to give us their views on the proposals.
This arrangement will not directly impact the new MDA housing areas within Havant Borough Council. However residents living within 3 miles of Parish Council boundaries are welcome to participate in the consultation process and will be able to participate with any current or new parish councils.
There are no proposals to change the boundaries of Winchester City Council and Havant Borough Council as this was not raised by the Boundary Commission in their review in 2015.
The four proposed options for future Parish arrangements
Option 1 - No change: Position to remain unchanged with governance of the West of Waterlooville MDA being divided between the two existing Parish Councils.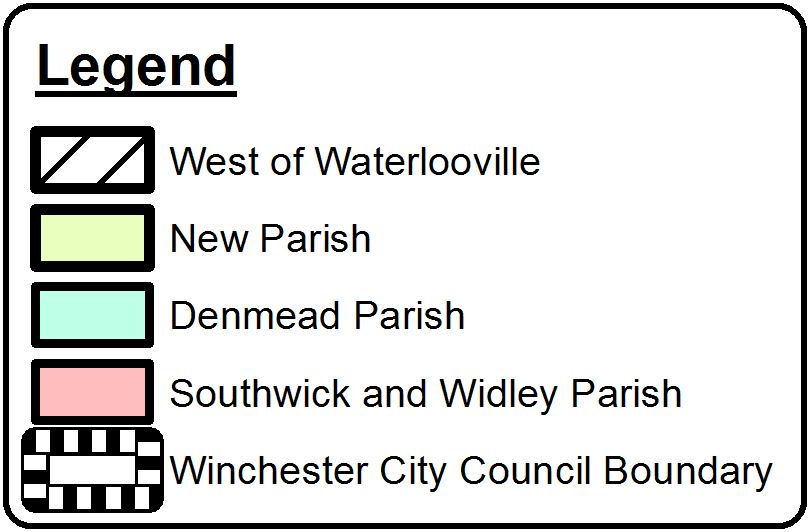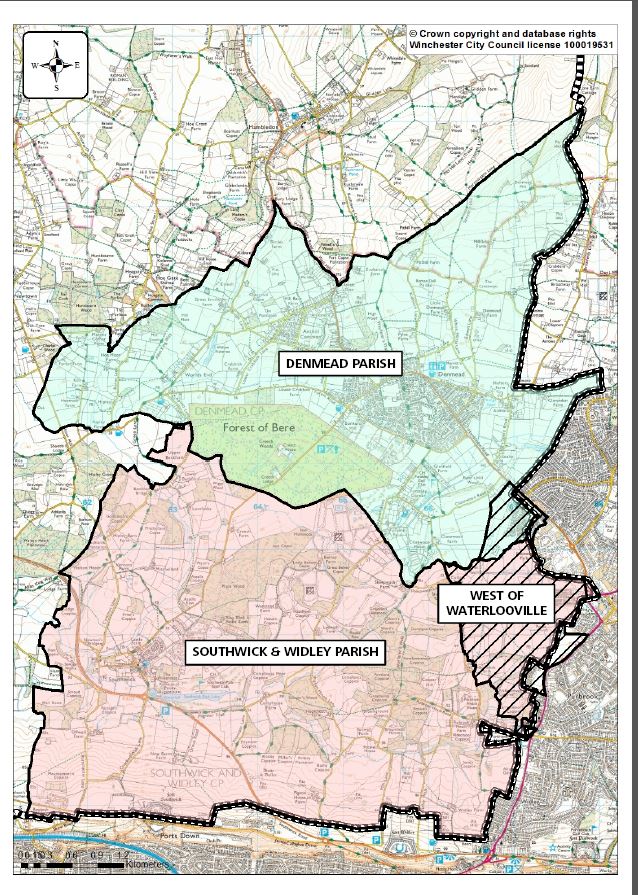 Option 2 - New Council formed for the new development area: Create a new separate council, be it a Parish, Neighbourhood or Community Council, for the West of Waterlooville MDA. This is the option suggested by the petitioners.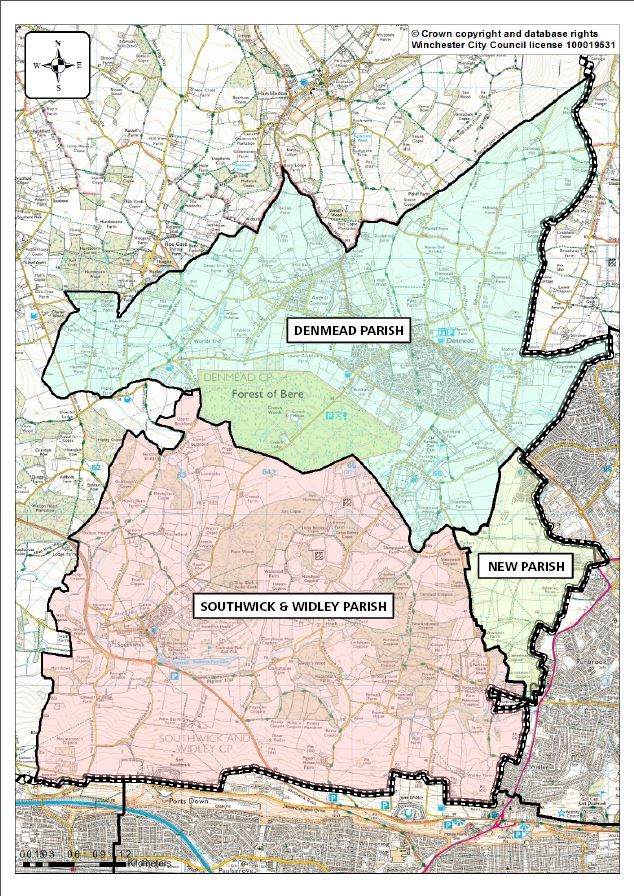 Option 3 - Move all the new development area into Southwick & Widley Parish Council: Remove part of the West of Waterlooville MDA from Denmead Parish Council and add it to Southwick & Widley Parish Council.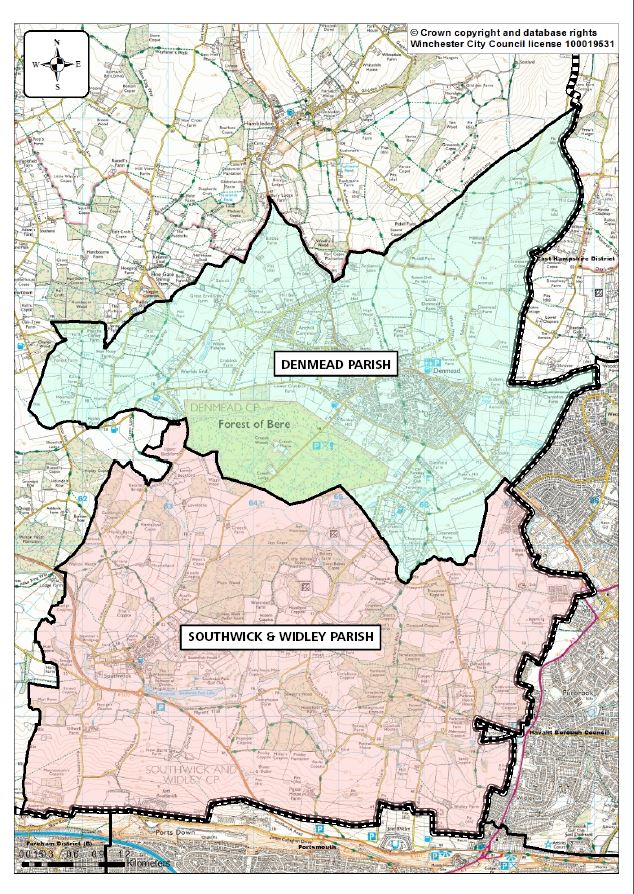 Option 4 - Move all the new development area into Denmead Parish Council: Remove part of the West of Waterlooville MDA from Southwick and Widley Parish Council and add it to Denmead Parish Council.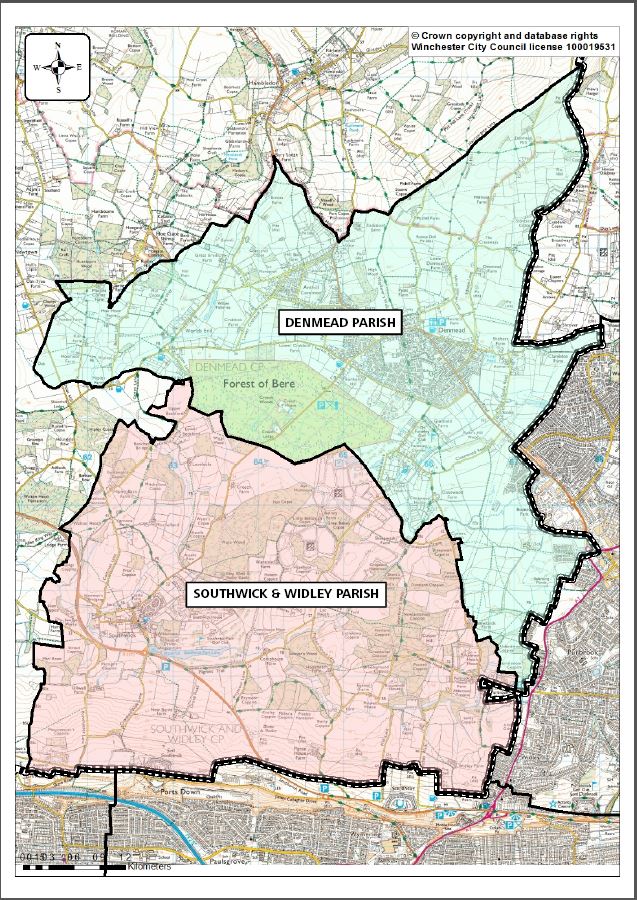 What next?
Feedback from this consultation will be considered by Winchester City Council and a further consultation will be arranged for March 2018. This will look at approving a preferred option including new boundaries and potential names for any new or reorganised councils.
Final recommendations will be published in June 2018.
 If a formal Reorganisation Order is agreed and approved, it will come into effect from 1st April 2019.
For more information
Please come along to one of our consultation events which will be held on:
| Date | Time | Venue |
| --- | --- | --- |
| Wednesday 24 January 2018 | 3.30pm -7.00pm | Berewood Primary School, Kentidge Way, Waterlooville, PO7 3BE |
| Saturday 27 January 2018 | 10.00am - 2.00pm | Wellington Vale Care Home, Darnel Road, Waterlooville, PO7 7TY |
Alternatively if you have any questions regarding this Community Governance Review please contact communitygovernancereview@winchester.gov.uk
This Community Governance Review is being developed in line with the legal framework of Part 4 of the Local Government and Public Involvement in Health Act 2007.
The Formal Terms of Reference for the Community Governance Review for West of Waterlooville document is attached below.