Overview
We conducted a consultation exercise recently which asked residents in Whiteley and Curdridge for their views on how they could best be represented at the level of local government closest to communities.
We received 742 responses to that consultation and more than 70% of respondents said they would prefer all the new development at North Whiteley to become part of Whiteley Town Council.  Whiteley Town Council and Curdridge Parish Council also supported that option.  We are now seeking residents' views on the changes we need to make to implement that option.
We would welcome any comments you wish to make on the following draft recommendations:
1. Boundary changes
We plan to alter the area of the parishes of Whiteley and Curdridge, so that the area coloured and marked "A" and "B" on the map overleaf will become part of the area governed by Whiteley Town Council and not part of the parish of Curdridge.
2. Councillor numbers
Having discussed this with both Curdridge Parish Council and Whiteley Town Council, we plan to keep the number of councillors for the parishes of Whiteley and Curdridge the same.
3. Electoral arrangements
We will need to amend the electoral register to reflect the new electoral arrangements – some residents' voting area will change if we go ahead with this plan:
Residents swapping from Curdridge Parish Council to Whiteley Town Council would vote for councillors in the Whiteley Town Council instead of voting for Curdridge Parish councillors.

It also means that they would need to attend the polling station at Meadowside Leisure Centre, Whiteley for future elections.
The proposed changes will not alter the councillors you vote for to represent you on Winchester City Council, as both Curdridge Parish Council and Whiteley Town Council are within the Whiteley and Shedfield ward.

Map showing proposed boundary change: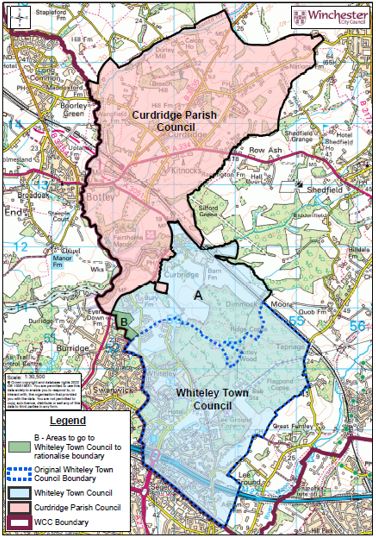 If you have any comments or representations to make on the proposals, please let us have your response by 23:59 on Friday 6 January 2023.
What happens next
Feedback from this consultation will be considered by Winchester City Council and a further phase will extend into 2023. This will look at approving a preferred option including new boundaries and potential names for any new or reorganised councils.
Final recommendations will be published in 2023. If a formal Reorganisation Order is agreed and approved, it will come into effect from 1st April 2023.